Hardscaping Services
Make the most of your outdoor living space with the addition of hardscaping features. Since 1992, Woodys Lawn and Landscape has built paver patios, decks, fire features, and more for residents in Lincoln, Bennet, Palmyra, Eagle, Hickman, and Firth.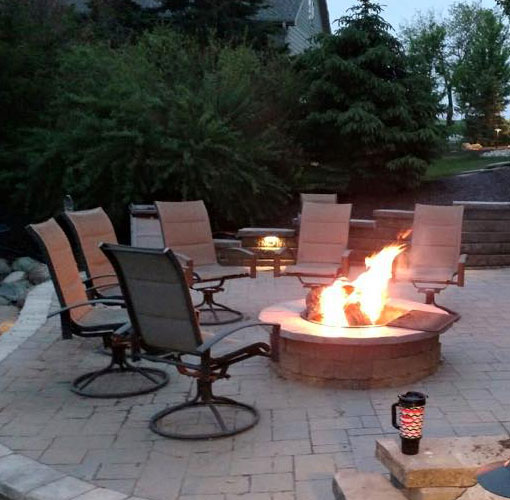 Paver Patios
Turn any backyard into a great space to spend time with friends and family with a beautiful paver patio from Woodys Lawn and Landscape! Our team handles everything from the initial design and picking out materials to contracting and installation.
What kind of materials have we used to build paver patios?
Brick
Concrete
Concrete Pavers
Flagstone & Slate
Decomposed Granite
Other recycled materials
Fire Features
Stay warm all year long in your outdoor living space with a fire feature! Over the years, we've worked with clients to create fire pits, outdoor fireplaces, and other outdoor fire features. These hardscaping additions provide you with a great place to gather at night, regardless of the season.
Water Features
Turn your existing landscape design into a quiet, relaxing space by adding a simple water feature to bring the sounds of nature to your home! We've built a variety of water features over the years for clients in and around Lincoln, including:
Pond water features
Pondless water features
Bubbling water features
Waterfall features Fountains
To build these features, we rely extensively on decorative rocks that provide a designer look to any backyard. Just tell us what you're envisioning, and we'll bring it to life!
Limestone & Block Retaining Walls
We can help protect your home and lawn from flooding, land erosion, and water runoff with our retaining wall installation services. Our team has the experience needed to correctly add limestone and block retaining walls to any existing landscape design!
We recommend adding a retaining wall to any backyard that's downhill from soil fault lines or backing a hill. These walls serve not only as protection from the aforementioned issues, but also provide you with additional seating space and clear separations between areas of your yard!
Our Hardscaping Features
Take a look at some of the finished hardscaping features we've built over the years!
Outdoor Living Spaces
Turn your backyard into an incredible hangout spot that everyone can enjoy by building an outdoor living space with Woodys Lawn and Landscape. Check out what we can do for you!
Woodys Lawn and Landscape
8690 S 162nd St
Bennet, NE 68317
402-488-4775
Monday – Sunday: 8:00 AM – 5:00 PM